2018 – Straight out of oz
Congratulations to all our students for your amazing performances on Saturday 22nd of September. I am so proud of you all for your hard work, good behaviour and beautiful dancing. We had a fantastic day at the Wycombe Swan Theatre and put on two stunning performances! Without our wonderful team of teachers, chaperones, ex-pupils, parents, helpers and dress makers none of this would have been possible. We are very proud of each and every child that took part in our show whether it was their first or last, it was definitely one to remember!
"Its not where you go, its who you meet along the way." – wizard of oz.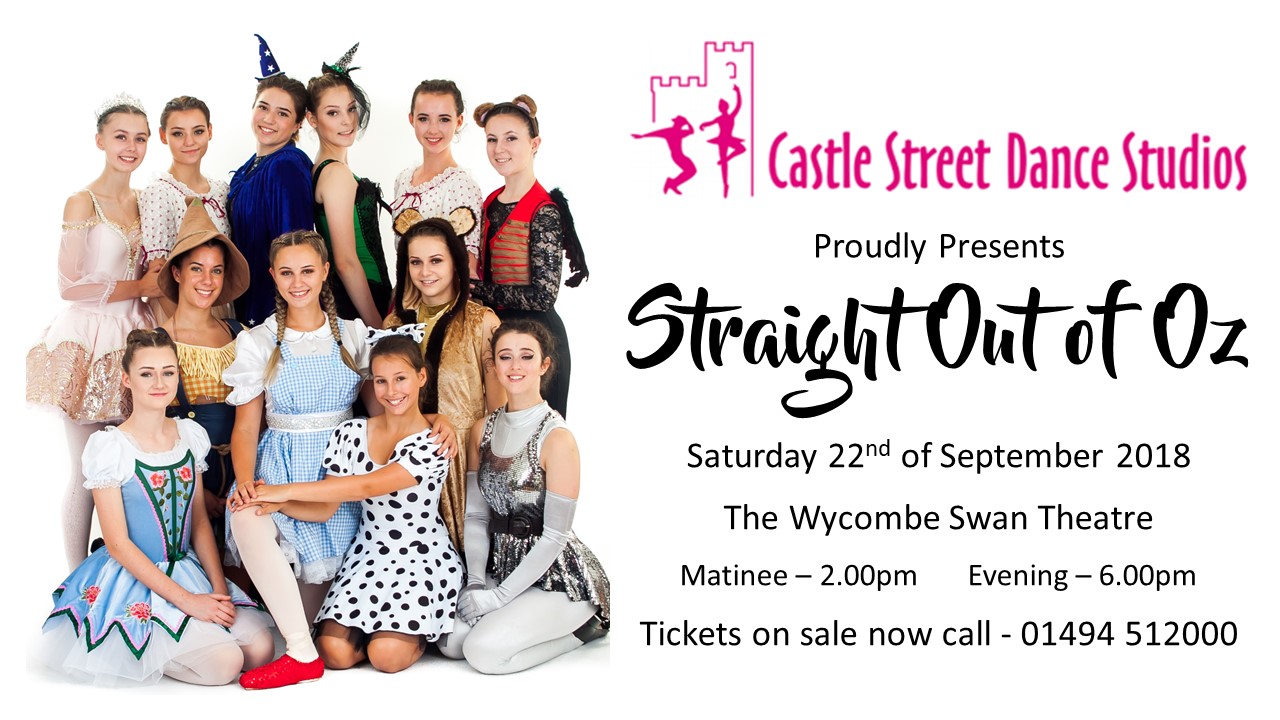 'Just back from watching a brilliant performance of The Nutcracker at Wycombe Swan Theatre performed by the Castle Street Dance Studios. Well done to all the dancers, some real talent there and the little kids were soo cute too'
Hiya Bucks Magazine
'Can I just say a big thank you for all of the hard work that went in to last nights show. Theo has only been with you a brief time, but absolutely loves ballet. He doesn't stop talking about it, he researches his favourite stars (Richard Windsor in Matthew Bourne's swan lake!) and says he wishes he could do ballet full time. He says he loves his classes because no one questions why a boy would want to do ballet, they just accept him. Seeing him on the stage last night, albeit for a couple of minutes, made me so proud and I really appreciate all the hard work that it took to get it together.'
Vanessa Tekindag, Parent
'I wanted to mention how fabulous the show was. I bought eight tickets and we all thought it was the best so far. The change of format where you mixed the dance disciplines throughout the show worked really well and even kept my dad awake (he's 83!) A really good night!'
Alison Price, Parent
'Absolutely brilliant show with some outstanding talent'
Shirley Bainbridge, Parent
'First I want to congratulate you and the team for a truly amazing show on Saturday. It was really superb – the dancing and the outfits were simply spectacular!!! I hope you have managed to recover a little – it must have been an exhausting few months for you all!! Sophia loved the whole experience and was so very excited to go back stage at the Swan, and was overwhelmed by being on the main stage – what a great opportunity for them all!!'
Clare Haynes, Parent
'Wow wow wow! What a show! Well done to everyone. You were all amazing! Best ever! A huge well done to everyone. Costumes were stunning this year. Thank you to the commitment and hard work of the teachers.'
Sally Bull, Parent